VDL Nedcar works together on sustainable mobility solutions
15 February 2023
VDL Nedcar is undergoing a transition from an independent car manufacturer to a broadly oriented partner in sustainable mobility. This increases the added value and future-proofing of the country's only passenger car factory where serial assembly takes place for third parties. The broadening of activities at VDL Nedcar in Born is visible in three areas: the assembly of vehicles for various clients, various sustainable mobility solutions at the Mobility Innovation Centre (MIC) and facilitating the growth strategy of sister companies, operating companies that are also part of VDL Groep. In recent years, land has been purchased and permit processes have been completed to transfer these broad-range activities to VDL Nedcar in Born.
One new activity that fits the first track, vehicle assembly, is the production of the world's first convertible with a pure electric drive, the MINI Cabrio Electric for BMW Group. Production of the limited edition of this model is scheduled to start in April 2023. ElectricBrands, the German manufacturer of sustainable and innovative electric vehicles, is the first target e-mobility customer of the MIC. The letter of intent will be worked out in the coming period in order to establish structural cooperation with ElectricBrands.
Evetta and XBUS: two ElectricBrands models
VDL Nedcar and ElectricBrands are in talks about the production of two models in Born: the e-city car Evetta and the modular XBUS. The plan is for the first Evetta to be produced in Born in the second quarter of 2024, and the first XBUS a year later. The associated production volume depends on the sales numbers. ElectricBrands already has orders for approximately 16,000 vehicles for the XBUS and more than 1,000 vehicles for the Evetta.
'We're delighted that we've found not only a production location in VDL, but also a financially stable, healthy and innovative family business that will build our vehicles,' says Ralf Haller, founder and CEO of ElectricBrands. 'VDL will offer expert support and a great deal of experience in the further development of our vehicles. This will ultimately benefit our customers who order or have ordered our vehicles.'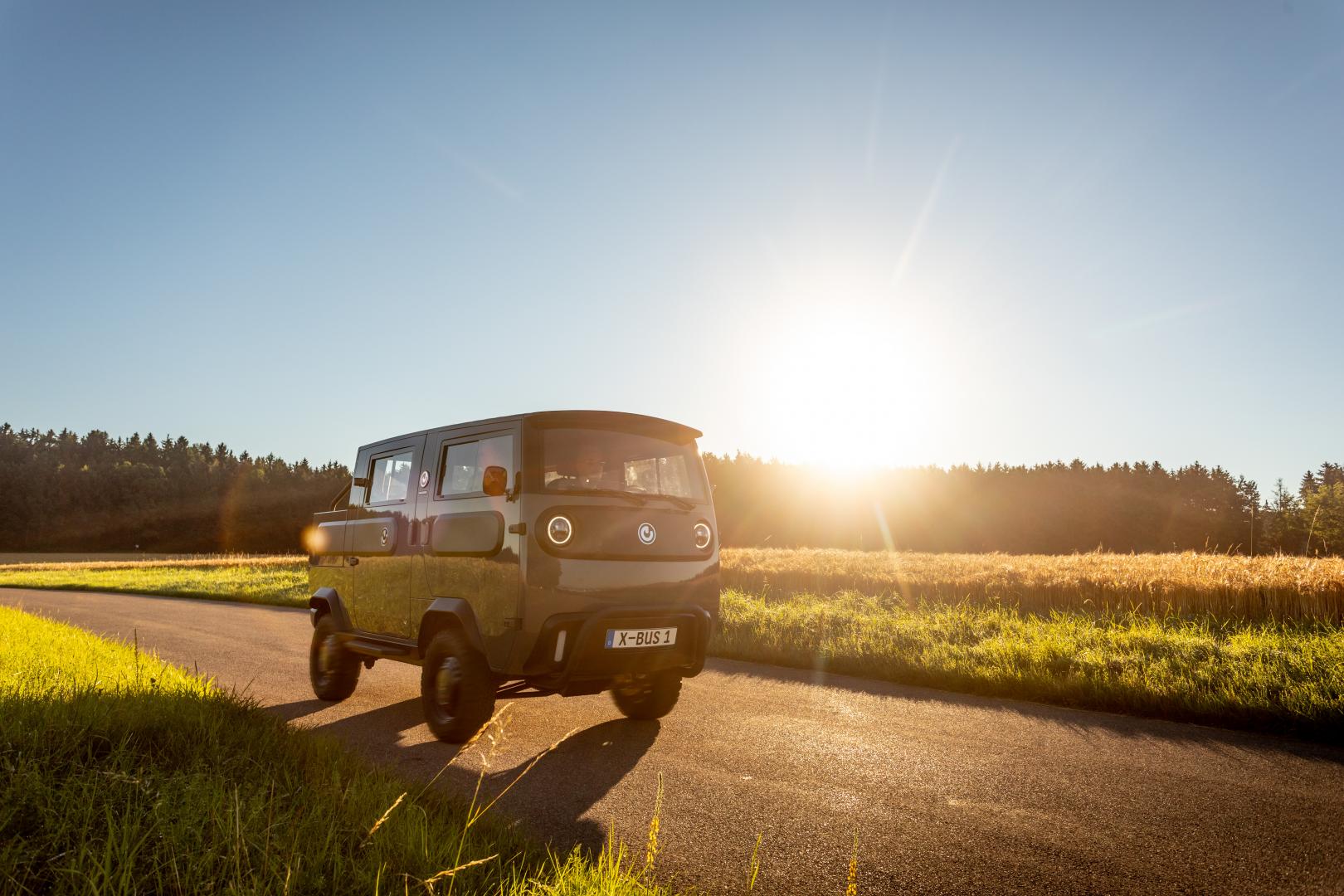 Caption: ElectricBrands from Germany wants to bring its XBUS model into production at VDL Nedcar in Born, among other things.
Perspective
'With the vehicles developed by ElectricBrands, we can make a joint contribution to shaping tomorrow's mobility,' says CEO John van Soerland of VDL Nedcar. 'A future where we work for multiple partners simultaneously. The cooperation with ElectricBrands offers prospects for VDL Nedcar.'

Caption: The Evetta, the model that ElectricBrands wants VDL Nedcar to take into production first, has several variants.
Mobility Innovation Centre (MIC): keeping up with mobility trends
Much is still new and unknown in the transition to sustainable e-mobility for passenger cars. A fairly unexplored field that requires collaboration. This also applies to the work that will take place at the MIC. In addition to assembly for e-mobility, the MIC develops activities together with partners in line with VDL Groep's extensive mobility strategy: design, electrification, connectivity, autonomous driving and systems.
Battery production line
The MIC is developing a demo line to assemble heavy and complex battery packs. A challenge in which various mobility partners from the Green Transport Delta - Electrification consortium join forces. Since 2021, VDL Nedcar has been the driving force behind this project in which 28 industry partners and companies are participating, with the aim of developing a battery ecosystem in the Netherlands that can accelerate the transition to climate-neutral mobility.
'In Green Transport Delta, we're developing a flexible and automated pilot production line for battery packs where both suppliers and OEMs can jointly gain knowledge,' says CTO René Vounckx of VDL Nedcar.
We aim to have this battery line tested in March 2023. VDL Nedcar is holding constructive talks with car and coach builders to have their batteries assembled in Born. The knowledge cluster for batteries, Battery Competence Cluster (BCC), of which VDL Groep is a co-founder and partner, supports this project with knowledge and skills. The importance of battery technology is further supported by a planned investment from VDL Groep in the National Growth Fund of over 25 million in the further development and upscaling of battery technology in the Netherlands.
Training
In the disruptive mobility sector, new competencies are needed to remain future-proof. VDL Nedcar will offer its employees the opportunity to connect with 'today's and tomorrow's' activities by following courses. In collaboration with employers' organisations and knowledge institutions, the MIC creates sustainable and hybrid training places.
Independent car manufacturer
After the current production contract has expired in 2024, premium production for the BMW Group will come to an end after 10 years. During that period, a lot of jobs were created through the production of more than a million cars. VDL Nedcar is holding constructive talks with various interested parties about continuing the activities as an independent car manufacturer (Vehicle Contract Manufacturer, VCM).
VDL Nedcar was recently commissioned by our partner BMW Group to put the first models of the MINI Cabrio Electric into production, a vote of confidence in VDL's electric competences. The MINI Cooper SE Convertible is the world's first convertible with a pure electric drive. Production of the limited edition of this model (999 cars) is scheduled to start in Born in April 2023. Whereas it normally takes one to two years to build a production line, VDL Nedcar's expert employees completed this job in just six months.
Another VCM activity recently started by VDL Nedcar is preparing cars for delivery and pre-delivery inspections on cars. In the automotive sector, there is a great demand for service partners to carry out such projects.
Caption: BMW Group's MINI Cabrio Electric which will be brought into production by VDL Nedcar.
Possibility of expansion for VDL sister companies
The third track that is being followed, to ensure the long-term continuity of business and associated employment at VDL Nedcar, is to facilitate the growth of various sister companies in Born, companies that, like VDL Nedcar, are part of parent company VDL Groep - and are active in the field of mobility, and have outgrown their current location. These plans are also being worked out.
VDL Nedcar will continue to exist
To prepare VDL Nedcar for the new activities, adjustments to the factory in Born are needed. This involves investments that run into the hundreds of millions of euros. The local infrastructure also needs adjusting. The completion of the current contract with BMW Group and the start-up of the other activities will be accompanied by fluctuations in the workforce. After the start-up phases of the intended diversity of activities, the aim remains to maintain sustainable employment at VDL Nedcar, a multiple of the situation in 2012.
The transition to sustainable e-mobility means VDL Nedcar sees opportunities in Born to play a leading role in broad-range and specialist mobility issues, independently building cars for third parties, developing sustainable mobility activities in the MIC and facilitating the growth strategy of VDL sister companies. The first steps have already been taken on all three tracks. One thing is clear: VDL Nedcar will continue to exist.
About VDL Nedcar
VDL Nedcar in Born is an independent car manufacturer that manufactures cars for third parties. It is the only large car factory in the Netherlands that has been part of the VDL Groep industrial family business in Eindhoven since the end of 2012. Currently, there are about 4,000 employees. The factory has a production capacity of up to 200,000 cars per year, on a two-shift basis. VDL Nedcar uses a highly automated production process (1,400 industrial robots). Since the start in 1967, more than 5.5 million cars (DAF, Volvo, Smart, Mitsubishi, MINI and BMW) have rolled off the production line in Born. VDL Nedcar currently manufactures the MINI Cabrio and the MINI Countryman; of the MINI Countryman, we also produce the PHEV model.
www.vdlnedcar.nl
Back